12th January 1980 - No.3
Edit
replacing Nothing (new feature)
to Unknown
Edit
replaced by Unknown

The Smurfs have been around for longer than you might think. First springing to life in the UK as a promotional item for 'National' petrol stations in the middle 70's, the Smurfs were actually created by Peyo, for a Belgian comic in 1958. In the UK they became a collecting craze when 'National' petrol started giving them away with every gallon of petrol bought. The Smurfs had different identities Sporty, Dreamy, Sleepy, etc., although some had proper names Peewit, Smurfette, Azrael, Gargamel, and each would be wearing an outfit, and/or items appertaining to their name.
Later in the 70's they even released a record , with a guy called Father Abraham, called 'The Smurf Song', which reached No.2 in the charts. They followed this with two more top 20 hits, 'Dippety Day' and 'Christmas in Smurfland'.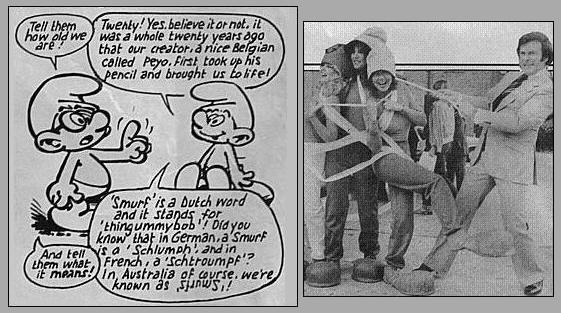 Around this time, Look-in succumbed to the craze and started a strip called Meet The Smurfs which proved very successful, so a little later What's Smurfing? appeared. Starting on 12/1/80 the feature had all that was new in the world of the Smurfs, including new additions to the Smurf figures, new toys and records. Also included were readers submissions, including poems, drawings etc.,
Also items of interest from events around the country, often including famous stars, like Terry Wogan (Left).
The item always varied in size, dependant on how much new news there was, and space probably. Sometimes only half a page, other times a full page.
The page was always fun, and informative, but perhaps only for big fans of the little blue ones.