22nd May 1971 to 11th September 1971
Edit
Written by Unknown
Drawn by Alberto Giolitti
---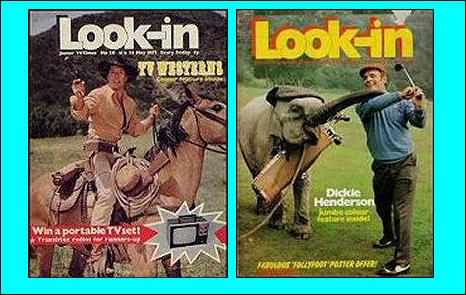 Started 22nd May 1971 - No.20, (Top Left) replacing Redgauntlet.
Ended 11th September 1971 - No.36, (Top Right) replaced by The Flaxton Boys.
"Revenge Is A Dish..."

22/05/71 - No.20 to 10/07/71 - No.27
Eccentric hunter Sir Ellery Barrett was branded a coward by Harriman Nelson while on safari three years ago, but now wants to take his revenge on the Admiral and 'Seaview'...

(Abridged from issue 5 of the Gold Key Voyage to the Bottom of the Sea' comic)
"The Decoy"

14/08/71 - No.32 to 11/09/71 - No.36
Via a river from the sea, 'Seaview' investigates a fake mechanical sea monster at Ktimba Lake, and becomes trapped when its route is deliberately blocked. It is all part of a plan by a crime organisation to prevent 'Seaview' escorting a freighter carrying a hundred million dollars of art for the World's Fair, using their own replica of the sub to steal the shipment...

(Abridged from issue 6 of the Gold Key 'Voyage to the Bottom of the Sea' comic)
(Titles are made up)
Ad blocker interference detected!
Wikia is a free-to-use site that makes money from advertising. We have a modified experience for viewers using ad blockers

Wikia is not accessible if you've made further modifications. Remove the custom ad blocker rule(s) and the page will load as expected.