9th December 1972 to 1st December 1973
Edit
Written by Angus P. Allan
Drawn by Alan Parry
---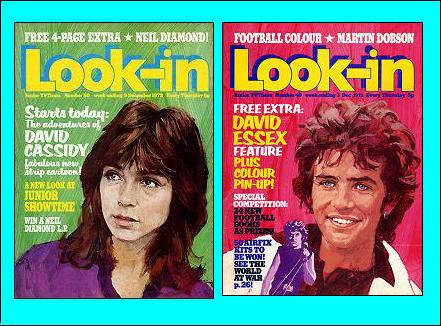 Started 9th December 1972 - No.50 (Top Left), replacing Unknown
Ended 1st December 1973 - No.49 (Top Right), replaced by Bless This House.
"Suicide Solution"

09/12/72 - No.50 to 30/12/72 - No.1
After a concert, David saves Joanne, a young teenager, from throwing herself off a bridge into a river, and finds out from her sister Debbie there is more to this than meets the eye.
"The Hitcher"

06/01/73 - No.2 to 10/02/73 - No.7
In America, David drives across the mountains to a concert and picks up a musician hitch-hiker, Johnny Frew. But he puts David's car out of commission as a blizzard blows up, and the singer becomes involved in a struggle between Frew and his crooked manager Santini.
"Danger for 'The Partridge Family"

17/02/73 - No.8 to 31/03/73 - No.14
When a stunt for 'The Partridge Family' nearly ends in tragedy, David is forced to report the driver, Joey Delaney, for being drunk the previous night. In revenge, Delaney steals David's car without him knowing and frames him for a traffic 'accident'.
"Hi-jack in the sky!"

07/04/73 - No.15 to 09/06/73 - No.24
On a tour in the West Indies, the plane David is on is skyjacked. When he attempts to confront the hi-jackers, both pilots are knocked out in the struggle, and the plane crashes in the jungle of Central America...
"Charity Begins..."

16/06/73 - No.25 to 21/07/73 - No.30
A group of troublesome bikers attempt to ruin a small town charity concert David is playing, and the singer falls foul of their leader Blade, who kidnaps the organiser's daughter Shareen.
"Bomb!"

28/07/73 - No.31 to 08/09/73 - No.37
Seemingly jealous of his girlfriend's worship of David Cassidy, a guy called Mervin is arrested for smashing the concert equipment. But when there is a bomb hoax, the singer believes someone else might be responsible...
"Superstitious"

28/07/73 - No.38 to 08/09/73 - No.39
A series of mishaps make David believe he is jinxed, but two fans Jean and Mandy come to his rescue.
"The Big Catch"

15/09/73 - No.40 to 10/11/73 - No.46
David is on a fishing holiday with Danny Bonaduce when they discover hidden stolen jewellery - only for the thieves, Slim and Dando, to return to claim it after five years in jail. Recognising the two stars from 'The Partridge Family', the crooks hold them to ransom...
"Beautiful Deception"

17/11/73 - No.47 to 01/12/73 - No.49
A young fan called Angie threatens to throw herself from the top of a crane unless David talks to her. But he becomes suspicious that she is simply a decoy for a bank robbery

(N.B. Story titles are made up.)
Ad blocker interference detected!
Wikia is a free-to-use site that makes money from advertising. We have a modified experience for viewers using ad blockers

Wikia is not accessible if you've made further modifications. Remove the custom ad blocker rule(s) and the page will load as expected.