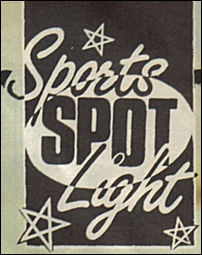 << 25th Jul 1981 - No.42
Edit
replacing Sports Arena
to 15 Oct 1984 - No.42 >>
Edit
replaced by Sports

When Sports Arena with Brian Moore eventually ended, or Brian wanted to cut ties with Look-in, ending yet another long term iconic part of the comic, the feature continued in a similar vein, for a while at least.
Now called [[Sports Spotlight], the familiar drawings of Sheridon Davies were still in evidence, and the posters, but as time went on the posters became less prominent in favour of two page feature spreads, although they did return later.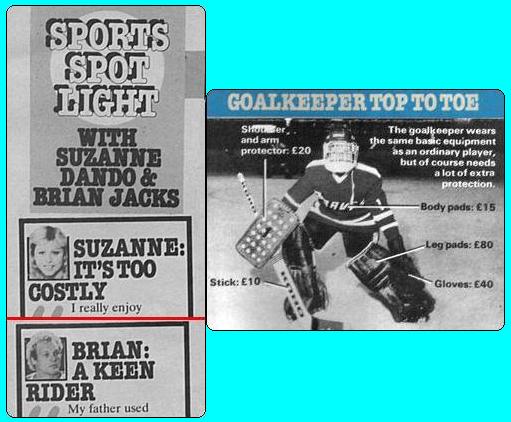 When the new format arrived a decision was made to update the sports section. The editor obviously felt the drawn feature looked a bit dated now, and opted for more dynamic photo spreads, the feature went between one and two pages, depending on what was featured.
The feature went through another re-vamp later in 1981, when it was decided to add some more well known sporting names to the title.
Sports Spotlight with Suzanne Dando and Brian Jacks (below, left), was a mix of sporting feature, and Suzanne and Brian, giving their own personal views about the sport/event featured. Suzanne was a famous Olympic Gymnast, Brian's chosen sport was Judo, and he did very well too, but is probably more famous for winning BBC's 'Superstars' sports contest.
Again as with Sports Arena, the feature was spread around the whole of the sporting world, and calendar, and included more diverse sports too, things like ice hockey (below). A pretty good feature I suppose, but like all purists, I missed the drawings.
Ad blocker interference detected!
Wikia is a free-to-use site that makes money from advertising. We have a modified experience for viewers using ad blockers

Wikia is not accessible if you've made further modifications. Remove the custom ad blocker rule(s) and the page will load as expected.