<< 27th March 1976 No.14
Edit
replacing Pop Quest
to 5th September 1981
Edit
replaced by Fun Assortment

When the furore of Pop Quest was dying down, and presumably the popularity poll that Look-in held perodically had deemed the quiz less popular than other features, the comic decided to revamp the quiz page.
A section called Screen Quiz was added, it had a mix of questions, ranging from movies, television, sport and other oddities. It first shared the page with Pop Quest, but eventually PQ was dissolved into the page, and the name was kept to Screen Quiz.
Sporadically there were running themes, like a picture of a famous star when they were younger, 'Sleeve Spot' survived from Pop Quest, but was now called 'Album Spot', things like anagrams and missing words still appeared but these could now be used for film titles or TV series titles or other things.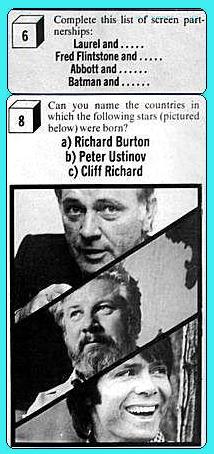 Later on Screen Quiz was published opposite a full page colour poster of a star, there always being a question concerning the star within that weeks quiz. These posters were the pre-cursor for Collect-A-Page that appeared later on. Collect-A-Page was nearly always opposite Screen Quiz.
When Look-in's new format appeared Screen Quiz was abandoned in favour of puzzle and activity pages like Fun Assortment, that had small quizzes within them.
Having really enjoyed Pop Quest, this was another feature I looked forward to, but being a bit of a music fan, I still liked the music questions in particular.
Ad blocker interference detected!
Wikia is a free-to-use site that makes money from advertising. We have a modified experience for viewers using ad blockers

Wikia is not accessible if you've made further modifications. Remove the custom ad blocker rule(s) and the page will load as expected.