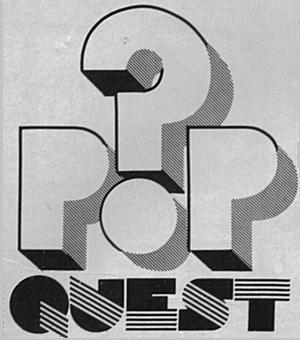 13th September 1975 - No.38
Edit
replacing Going A Bundle (?)
to 6th December 1975 - No.50
Edit
replaced by Unknown

Pop quizzes are nothing new to TV, but Pop Quest was the only one for kids. Pop quest was Introduced by Steve Merike (below left), an up and coming DJ from Radio Pennine, which covered the West Yorkshire area apparently. The show had teams of kids aged 14-17, from all the different TV regions of Britain, in rounds of music questions from 50's through to the 70's. The losers were knocked out, and the winners progressed through to the final.
The eventual winners were given gold discs, and came back a week later to play against a team of top DJ's.
The first series had some success, but when it came back Steve was no longer the presenter, and more popular DJ's replaced him. David 'Kid' Jensen hosted the second series, and Mike Read who went on to bigger success with 'Pop Quiz' later on, hosted the third series.
The feature first ran on the same week the programme first aired. It started as a double page feature, and included questions from different periods of music, as well as picture rounds, anagrams, and things like 'Sleeve Spot', where the give away lettering was removed from a famous album cover, the reader then had to guess what album it was (There's a nice easy one for you on the left...!!).
The feature later turned into Screen Quiz which was more of a mixture of entertainment questions.
I love music quizzes, (if there's a drink available even better...!!!), and I enjoyed this feature a lot.
Ad blocker interference detected!
Wikia is a free-to-use site that makes money from advertising. We have a modified experience for viewers using ad blockers

Wikia is not accessible if you've made further modifications. Remove the custom ad blocker rule(s) and the page will load as expected.