12th September 1981 to 12th February 1983
Edit
Written by Angus P. Allan
Drawn by Harry North
---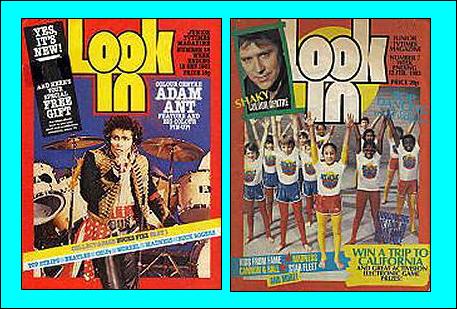 Started 12th September 1981 No.38 , (Top Left) replacing Smuggler.
Ended 12th February 1983 - No.7, (Top Right) replaced by Bucks Fizz.

1st Run
"Lost In Egypt"

12/9/81 – No.38
The boys are stranded in Egypt, and have to find their way home, with precious little help from the Look-in script writer.
"Horrible Horoscope"

17/10/81 - No.43
The boys become the target of Madme Ekava Square, a twisted Conductor, turned Horoscope writer, who is jealous of anyone who makes it in the music business, because she failed. She makes the boys' tour bus crash and they have to find another way to their concert in Bunsley.

(The strip took a break to be replaced by the return of 'Rock on Tommy! With Cannon and Ball' in the next issue)

2nd Run
"Knight Dreams"

8/1/83 – No.2
Suggs dreams he has been knighted by the Queen, and is convinced after reading a book on dreams, that it is really going to happen. So he sets about making sure he'll be dressed right for the occasion.
"Madcap Mayhem"

15/1/83 – No.3
Unable to come up with any ideas for the strip this week, Suggs gets out his 'Thinking cap', a madcap invention he bought in California, which looks just like a cardboard box with a dial? The box works but all the ideas aren't what the lads have in mind, or are too dangerous, so they have no choice but to ring the Look-in editor and tell him.
"Wacky Wishes"

22/1/83 – No.4
Lee decides to clean the rehearsal room, when he polishes the speaker, out pops the 'Genie of the Amp' (Groan), and he grants the lads three wishes…
"Find the Single"

29/1/83 – No.5
It seems that nobody can get hold of the latest Madness single, Suggs sees a particularly upset fan, and makes it his business to find out what has happened to all the singles, and to get the fan a copy.
"Prove You're Mad?"

5/2/83 – No.6
The Nutty boys are arrested by the trade description people, who accuse them of deceiving people, because they say the boys are not mad enough to call themselves Madness. The boys set out to prove otherwise…
"A Day at the Zoo"

12/2/83 – No.7
The boys' video game machine is on the blink, so they have to do something else, so off they go to the zoo, where they get more than they bargained for.

(Thanks to Shaqui Le Vesconte for help with this chronology)

(Story titles are made up)
Ad blocker interference detected!
Wikia is a free-to-use site that makes money from advertising. We have a modified experience for viewers using ad blockers

Wikia is not accessible if you've made further modifications. Remove the custom ad blocker rule(s) and the page will load as expected.