9th January 1971 - No.1
Edit
replacing Nothing (new feature)
to 4th November 1972 - No.31 >>
Edit
replaced by Unknown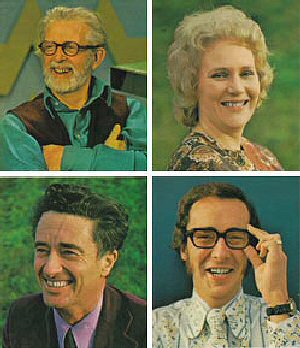 How was already a hugely successful series by the time it appeared in Look-in, having began in 1966. The format of the show was so simple, to answer everyday questions, about all sorts of subjects, all phrased so they began 'How?...'. It was conceived by one of the presenters, Jack Hargreaves (top left), whose specialist area was nature and the countryside, during this time he also presented another series about the countryside called 'Out Of Town', which also became a Look-in feature. With Jack were three other 'experts', Fred Dineage (bottom right), who specialised in historical questions, but also used to do boyish things like card tricks, and oddball things, and generally mucking about, Bunty James (top right), who did things like cooking, fashions and more feminine things, (she was replaced later by Marian Davies), and Jon Miller (bottom left) who did all the science type questions and experiments. One of the main gimmicks of the programme was for all the presenters, as they appeared on screen, to put one hand up, Indian stylee, and say 'HOW', to which an Indian voice would reply in a deep brogue, 'HOW!', also hence the Indian headdresses in the pics above, which were evident in a lot of the publicity pics of the time. The features in Look-in were a mix of just plain text, answering the questions, and diagrams to describe more complicated things. The questions were sent in by Look-in readers, but I am not sure if the questions were really answered by the How presenters or just by Look-in writers, but it was very informative, and really great if you were a fan of the series, as I was. The illustrations incidentally were by David Jefferis.
The series has been revived recently as 'How 2', and Fred returned to the show as a presenter.
Ad blocker interference detected!
Wikia is a free-to-use site that makes money from advertising. We have a modified experience for viewers using ad blockers

Wikia is not accessible if you've made further modifications. Remove the custom ad blocker rule(s) and the page will load as expected.