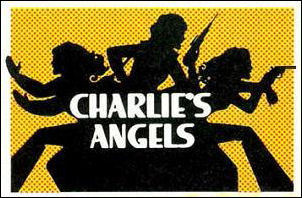 Charlie's Angels was for me the last of the great American series, as soon as the 80's hit, there was a change to programmes that included some sort of technology, be it a car, helicopter, bike etc, or lots of stunts, maybe I was just growing up, but there was definite slant to more kid friendly shows, as opposed to across the board family entertainment. Charlie's Angels was a basic detective show - with a difference, the PI's were women, all ex-police officers, (apart from Julie, who was a modelling graduate) who were taken from their mundane lifestyles, to work for Charlie Townsend, who was never seen in the show, Charlie's spoke to the Angels via a telecom in the office, (with a voice provided by John Forsythe). The Angels got their orders, and proceeded to investigate. The Angels would nearly always go undercover in some way, be it joining a show, becoming models, part of a sports team etc,. Always close at hand was Charlie's right hand man Bosley or 'Bos' as he was affectionately known, (Played by the late David Doyle).

The cast went though some changes over it's 5 year run. here is a list of the Angels. Sabrina Duncan (Kate Jackson) and Jill Munroe (Farrah Fawcett) were the only Angels not to appear in the strip. (Note: back then she was Farrah Fawcett-Majors, being the wife of 'The Six Million Dollar Man' Lee Majors.) Kelly Garrett (Jaclyn Smith) the longest served Angel, and also the only Angel to take a cameo in the recent movies. Kris Munroe (Cheryl Ladd) Jill's sister who came in when she left. Tiffany Welles (Shelley Hack) who replaced Sabrina. and Julie Rogers (Tanya Roberts) who replaced Tiffany after a short run. The strip came into Look-in during the 4th season, strange as although it was still popular, it had probably peaked before this point. My favourite Angel Kelly was still there, although Sabrina had left who I thought was a better character than Tiffany, there were some great storylines, and Jim Baikie did a really good job on the strip, with some really good likenesses, Bill Titcombe had another stab at an action strip, drawing the last in this series. Having attempted action before this with a Tomorrow People strip, Look-in should have learned their lesson..!!!, not the best end to a decent run.
Ad blocker interference detected!
Wikia is a free-to-use site that makes money from advertising. We have a modified experience for viewers using ad blockers

Wikia is not accessible if you've made further modifications. Remove the custom ad blocker rule(s) and the page will load as expected.