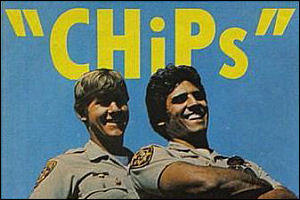 CHiPs was the what you see is what you get programme, no special effects, no unusual storylines, it even had two virtual unknowns playing the leads, but it went on to become one of the biggest hits of the 80's. It was simply stories in the day to day lives of two traffic cops, Jon Baker (Larry Wilcox) and Frank 'Ponch' Poncherello (Erik Estrada). They work for the California Highway Patrol or CHP, add an 'i' and an 's', and you have CHiPs, so far as I'm aware this was a nickname actually used by the real CHP, and obviously where the series got it's name. In real life the CHP almost never ride in pairs, but an explanation was given in the first series that Frank was on a probationary period, with Jon assigned to keep tabs on him, and try and steer Frank away from trouble, he being the more wayward and feisty of the pair. Nonetheless they were always in some sort trouble and at the constant glare of Sgt. Joe Getraer.

Of course the real stars of the show were the huge Harley-Davidson motorcycles that Jon and Ponch rode, bet everyone wished they could have owned one of those, (still do...!!!). The series took quite a simple premise and made a more exciting program than was probably expected, it had fun, tension and excitement, and was so big that it ran for 6 series. Due to contractual difficulties, Larry decided not to do the sixth series, and was replaced by two new actors, Tom Rielly as Bobby Nelson, and Bruce Penhall as Bruce Nelson (Bobby's brother), who took turns in partnering Frank. Fans didn't take to losing Larry so the show was axed, but Larry and Erik returned in 1999 in a full length reunion film 'CHiPs 99. There were plans for the series to be revived in 2003 with new actors, but this was quickly thought a bad idea and canned, but it was announced recently that there is going to be a CHiPs movie in 2009.
The strip was really good, Jim Baikie continuing the great work started on the Angels strip, and fast becoming one of the greats of Look-in. Arthur Ranson's strips were good too, his realistic artwork adding to the tension. Some sterling script work by Angus P. Allan made this a particularly memorable addition to Look-in's roll call of hit strips.
Ad blocker interference detected!
Wikia is a free-to-use site that makes money from advertising. We have a modified experience for viewers using ad blockers

Wikia is not accessible if you've made further modifications. Remove the custom ad blocker rule(s) and the page will load as expected.