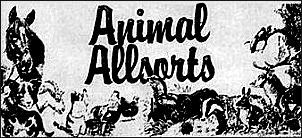 << 7th Mar 1981 - No.11
Edit
replacing Wildlife World
to 5th Sept 1981 - No.37
Edit
replaced by Unknown
After Wildlife World ended, Look-in took a short break from animals, but they returned later in a renamed feature now called Animal Allsorts.
In a similar vein to Wildlife World allsorts looked at a particular animal or subject every week, but in the main tried to keep the information focused on British wildlife and issues, although they did diverse now and then.
They also had features on our more domesticated animals, with advice and help on keeping pets. It also like Wildlife World, discussed issues relating to animals, but in particular pets, citing things like cruelty to animals, and often had some hard hitting pictures at times, like the dog on the lower left of the page.
It also discussed environmental issues closer to home, and things like hunting, so it had an altogether more domestic feel compared to Wildlife World.
To tie in with the pets theme, the feature was now supported by the RSPCA, again there was a club called the 'Junior RSPCA', which you could write off to and join.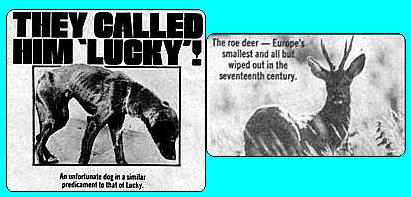 Look-in's attempt to keep children abreast of issues, and helping them understand how important they were, must be applauded, and is yet another example of how the magazine was right on the pulse of what was going on in everything.
Again a great feature for the animal lovers in Look-in's readership, and the more British themes made it all the more enjoyable for me.
Ad blocker interference detected!
Wikia is a free-to-use site that makes money from advertising. We have a modified experience for viewers using ad blockers

Wikia is not accessible if you've made further modifications. Remove the custom ad blocker rule(s) and the page will load as expected.